Delegation from USAID visits the Palestinian Business Prosperity Center (PALPRO)
September 12, 2022
Posted by:

issa

Categories:

Innovation, Uncategorized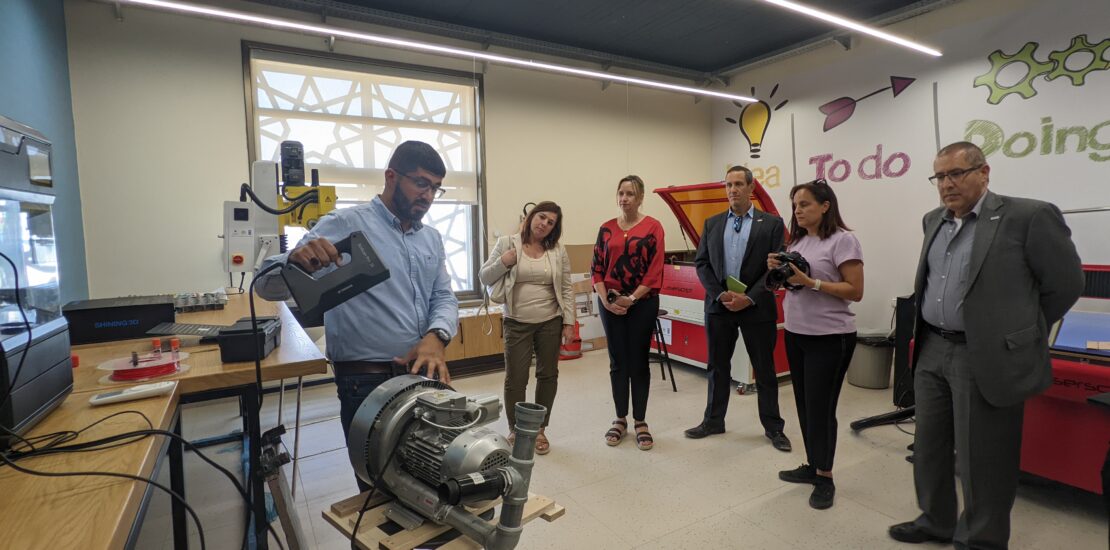 PALPRO Center received a group of Palestinian entrepreneurs accompanied by a delegation from the Higher Council for Innovation and Excellence, represented by the Director of the Technical Development Department, Dr. Mohammed Abu Eid, on Monday 12/09/2022, to discuss ways of cooperation, to develop the participants' innovations.
At the beginning of the meeting, the Center's staff welcomed the participants and took them on a tour around the Center to brief them on the available facilities, machines and services, which will help them develop their pioneer projects. The participants were acquainted with the services of the Quality and Applied Research Lab, the Fabrication Lab, and the Business Development Unit.
Following the tour, the participants presented their projects along with their financial, technical and research needs to the Center's staff. The presentations included various innovations such as "Inzar" by Mr. Osama Brahma, which is an application used to send an alert for help, search for the nearest doctor or hospital, and track the location of children, in addition to the project "Sadeem for Electronic Research and Development" by Mr. Omar Ghannam, where he uses innovative electronic devices to monitor water level and lighting services. The presentations also included the project "Ain Al-Zeraa" by Mr. Sabri Odeh, where he uses an advanced device to detect pests inside farms, in addition to "Cvision" project by Mr. Atef Shkoukani, through which he invented a system that maximizes safe driving and reduces traffic accidents that result from driver distraction. Finally, the session concluded with Dr. Mohammed al-Sabah's project "Bioplastics and Edible Packaging", which aims at manufacturing edible packaging from natural and available sources, instead of plastic.
Afterwards, the delegation met with the Center's staff to conclude recommendations, in order to find ways of cooperation and help to develop the projects. The recommendations included directing the pioneers to sources of grants and financial support and potential partners, in addition to helping them with issues related to import and export, as well as offering them to use the Center's services, facilities and equipment.
At the end of the meeting, the Center's staff expressed their pleasure to host a distinguished group of entrepreneurs, who innovated projects that contribute to the development and prosperity of the Palestinian society. In response, Dr. Mohammed Abu Eid thanked the Center's staff for the warm reception, wishing for more cooperation between HCIE and PALPRO.
There are many great things within the theme which are the cause of its popularity. The biggest factor is the appearance of the theme; it disrupts theme design clichés without being unprofessional. The different possible color combinations are also being appreciated by many companies. The theme continues to rise in popularity and many other companies have expressed an interest in deploying it on their new websites. The creators of the theme are happy with the response and have vowed to create further themes exploring the same concepts