British Consul and Ambassador visit Business Prosperity Center (PALPRO)
September 6, 2022
Posted by:

issa

Categories:

Innovation, Uncategorized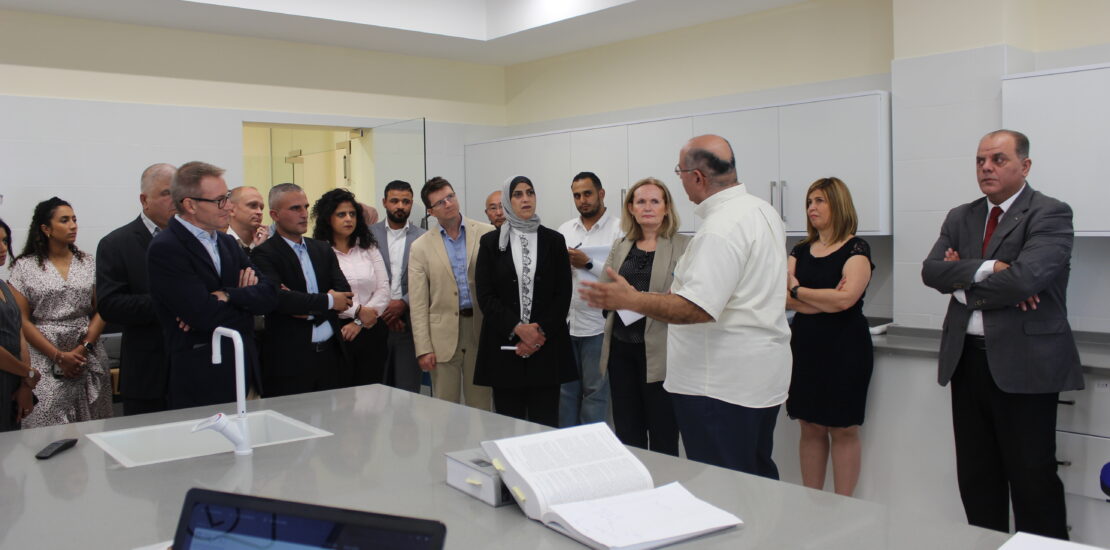 H.E. Ms. Diane Corner, British Consul General in Jerusalem, and H.E. the British Ambassador, Mr. Neil Wigan, visited the Business Prosperity Center (PALPRO), on Tuesday 06/09/2022, within a delegation that consisted of the Second Secretary, the Economic Adviser and the Leader of the Economic Development and Institutions at the Consulate. The delegation was also accompanied by the Japanese Ambassador for the Palestinian Affairs, H.E. Mr. Masayuki Magoshi, along with other members from the Embassy.
The delegation was greeted by Ms. Ghadeer Hitnawi, IPIEA Acting CEO, and Director of JAIP, Ms. Alaa Abu Baker, along with the staff of PALPRO which consisted of members from IPIEA, UNDP and Business Development Unit, represented by Issa Abu Aram, Tala Abu Eid, and Mamoun Nazzal.
At the beginning of the visit, the guests were welcomed and briefed on the emergence and development of JAIP and PALPRO, in addition to the project's infrastructure, current challenges and future plans. Furthermore, the visitors were acquainted with the goals of the project, primarily, supporting the Palestinian industrial and agricultural sector, in addition to encouraging export from Palestine to foreign markets.
During the visit, H.E. the Japanese Ambassador, Masayuki Magoshi, referred to the efforts of Japan to support the project financially and morally and highlighted its importance for promoting peace and prosperity in the region and achieve the two-state solution.
H.E. Consul Diane Corner, expressed her appreciation for the warm welcome and emphasized the Consulate support for the Palestinian economy. H.E. referred to how the consulate seeks to find solutions for the obstacles and challenges between the Palestinians and Israelis, in order to boost the economy of Palestinians. H.E. also added that her team is actively involved in the work of the AHLC, in addition to implementing a project that supports Palestinian exports. Furthermore, H.E. expressed her desire to witness more progress in the Palestinian economy and exports from Palestine to the rest of the world, in addition to reduction in the unemployment rate in the region.
H.E. also stressed Britain quest to achieve peace in the region and the two-state solution.
The visit included a tour to PALPRO, to be acquainted with its departments and the services provided to individuals, institutions and factories in the region, such as, marketing, feasibility studies and training. The delegation learned that the ultimate goal of the Center is to boost the industrial and agricultural sector in Palestine. The visitors were also briefed on the latest projects that the Center is working on.
The delegation concluded its visit by inspecting some of the factories in the region, such as Alison Pharmaceutical Company and Fine Chocolate Company. By the end of the tour, the delegation expressed its admiration for the various services and products present in JAIP, and the progress of the project, along with its contribution to strengthen the Palestinian economy.